La Grand Prix 3D è un kit Formula 1:10 stampato quasi totalmente in 3D che ricalca le forme dei modelli degli anni 60.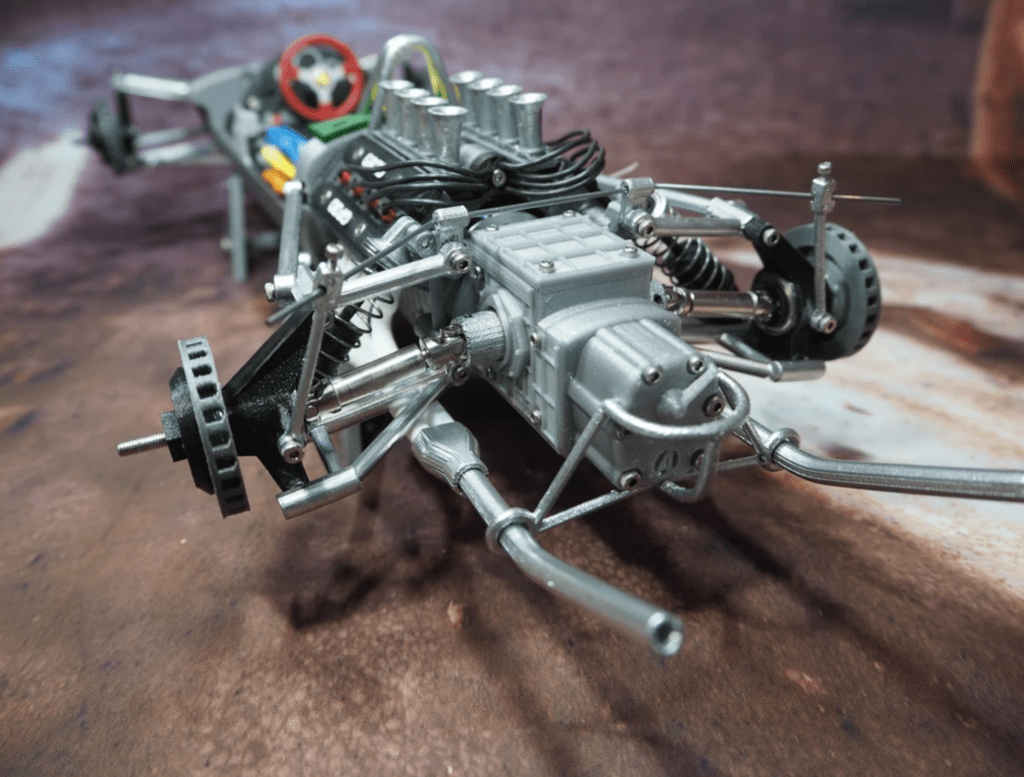 Tuttavia è qualcosa di totalmente diverso dalle F1 a cui siamo abituati!
La Grand Prix 3D ha un livello di dettaglio incredibile, sembra un modello statico. Tutte le parti esterne sono identiche alla realtà, il motore e il cambio internamente ospitano le componenti che lo rendono funzionante come il motore elettrico e la trasmissione, con i CVD!
Sono perfettamente replicati i dettagli con anche i cavi delle candele, i freni e gli scarichi.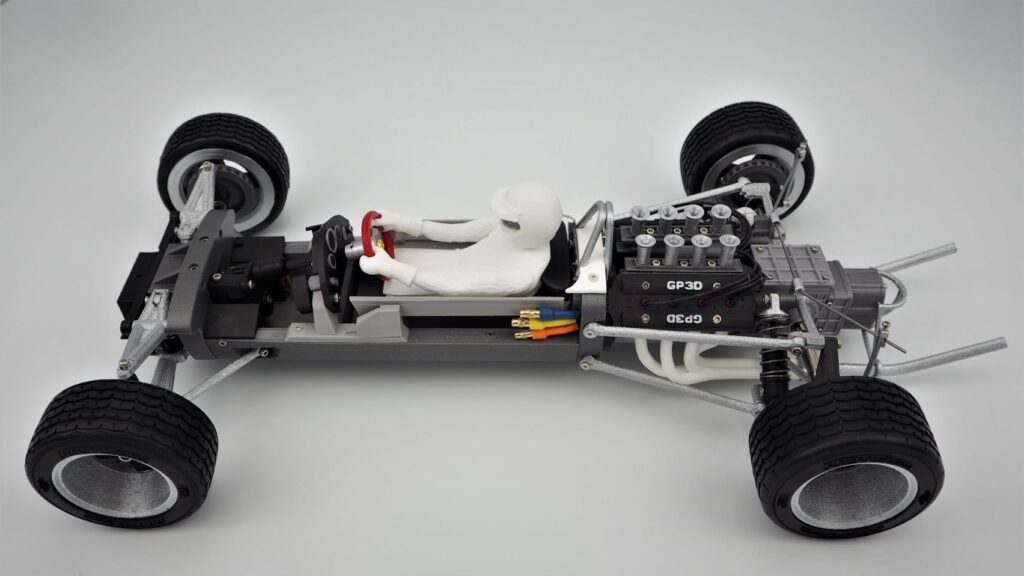 Anche il cockpit con pilota, casco e volante! Lo sterzo stesso tramite degli ingranaggi farà ruotare il volante!
Il kit Grand Prix 3D è stampato con i seguenti materiali:
Carbon fibre reinforced Nylon
Glass fibre reinforced Nylon
Polycarbonate (PC blend)
Flexible (TPU) polymers
PETG/PLA plastic
Riguardo la resistenza dichiarano sul sito:
We have used various materials based on their impact and temperature resistance depending on the component of the car and it's performance requirements.
The components requiring the highest strength such as the suspension, chassis, bulkheads and gearbox are printed with the latest exotic Carbon fibre and Glass fibre reinforced Nylon. Also a Polycarbonate (PC) blend has been used also for it's high strength and fantastic physical characteristics. For a given type of plastic material; injection moulding will always be a little stronger, albeit not significantly so and to counter this we have selected those high quality super strong appropriate materials which make it stronger than other plastic RC cars. Any part will break eventually with a big enough crash or bad impact angle, but not too worry we have all parts available as spares to get you back on the grand prix track!
Il telaio arriva già stampato nel colore scelto in fase di ordine, oppure bianco. Sono sufficienti solo gli adesivi. Inoltre tali parti dovrebbero essere in TPU ( lo stesso materiale delle cover) quindi il "nose cone" assolve la funzione di bumper.
Nel kit, oltre al telaio vengono forniti:
2845 sized Surpass Brushless Motor
Savox SH0255MG SH-0255MG Micro Metal Gear Digital Servo
Per le gomme si usano le Proline VTA:
#10139-18 Rear
#10140-18 Front
Non Sono forniti:
ESC (electronic speed control)

Note: ESC area is restricted to approximately: 46mm length x 27mm width x 21mm height)

Transmitter & Receiver

Note: Receiver space is restricted to approximately: 42mm long x 26mm wide x 22m height
La batteria deve rispettare questi limiti:
Size: LIPO Shorty 7.4V 2S
Max dimensions: 96mm x47mm x 26mm
Smaller will fit, and would require you to add padding to suit
Le spedizioni sono previste da Febbraio 2021 e saranno disponibili pian piano i ricambi.
Per quel che riguarda il prezzo il kit viene venduto a $715.00, sicuramente una cifra alta, ma è un oggetto unico!
Complimenti ad Andrew Cooke per questo fantastico progetto!
#SaveF1Rc
Fonte: https://grandprix3d.store/